Great An affordable, bass-heavy alternative to the acclaimed Sony WH-1000XM3 available in Dhaka, Bangladesh


Essentially existing as a bridge between Sony's Extra Bass series and the much-acclaimed Sony WH-1000XM3, the Sony WH-XB900N attempt to provide something of value to numerous kinds of users at a lower price point than the exorbitantly-priced WH-1000XM3. On paper, the Sony WH-XB900N have a lot to offer including extra oomph down below (a little too much, as we will cover later), ANC, high-end codecs support, and more, all at a lower price! Sounds ideal, doesn't it? Let's find out.
Build and Design
The build of the Sony WH-XB900N is extremely reminiscent of the Sony WH-1000XM3, particularly the shape and styling, but you will 'feel' the difference more than 'see' it since they feel much more plasticky than the WH-1000XM3. As you slide these cans out of their box, you will first notice that they are crafted out of lightweight plastic, weighing 254 grams, and as you put them on, you will notice that the weight is distributed evenly across the headband. The large over-ear cups and the underside of the headband feature thick and plushy memory foam and the overall fit and comfort level is excellent. However, the memory foam on the cups does get significantly warm over extended periods of usage, as per our tests. This tends to lead to sweat formation around the earcups due to the lack of outlets for heat dissipation. Nevertheless, if you listen to music for relatively short periods of time at a stretch, you shouldn't experience any kind of discomfort.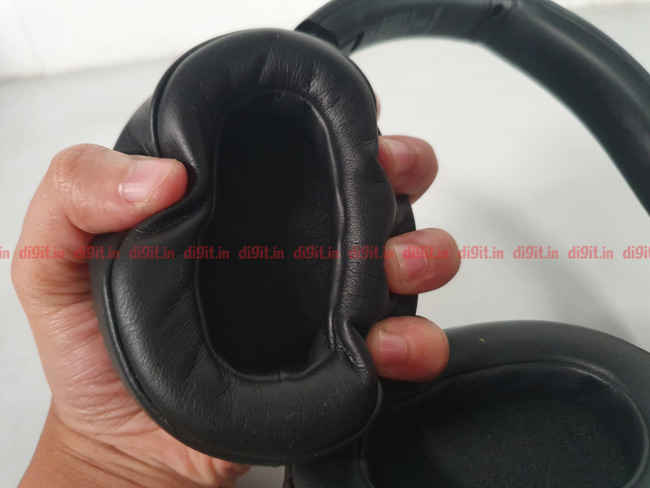 The colour of the memory foam is the same as the rest of the plastic exterior which lends the headphones a single-tone, clean look. The glossy embossed Sony logo is etched on either side of the headphones and the texture separates itself slightly from the overall matte texture of the headphones. The bass vents which lie hidden under the part of the headband intersecting with the earcups have a glossy black texture.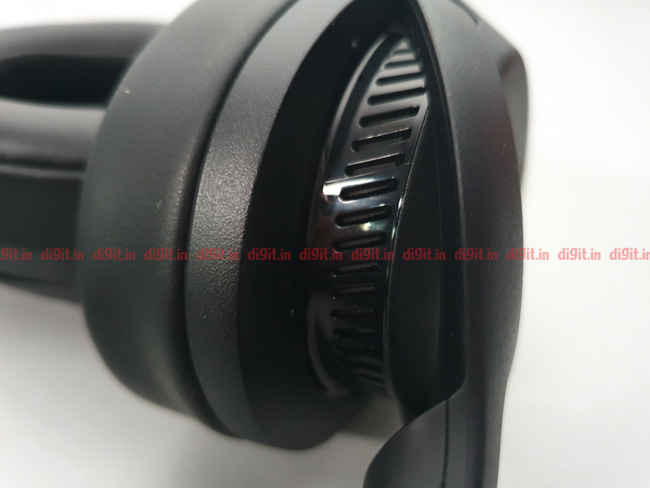 The headphones are ridiculously flexible and almost straightened up completely in our durability tests without so much as a creak. They are fairly portable as well since the earcups can rotate 90 degrees and fold at the hinges to achieve a smaller footprint. When the headband is extended, you will see a glossy stainless steel reinforcing band with plastic on the underside which serves as an aesthetic contrast visually.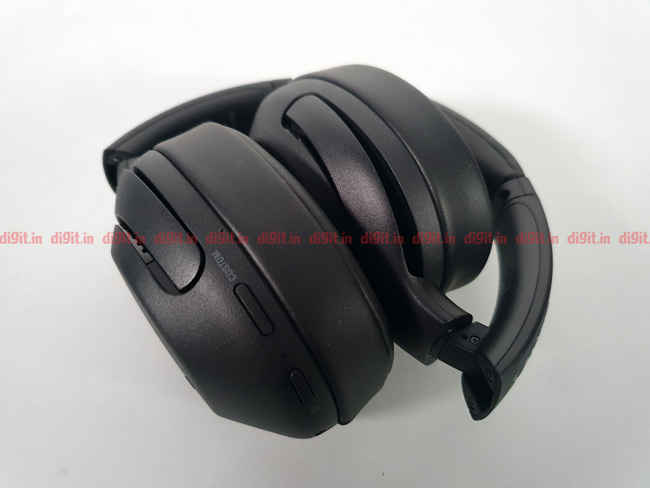 The left earcup houses a 3.5mm audio socket to accommodate the 3.5mm cable which means that you can keep listening to music even when the juice in these cans have run dry (which will take a while, but more on that later). It also features a USB-C charging port, one of the microphones, an NFC logo and two physical buttons – a power button and a customisable button. The customisable button can be assigned as an ANC profile controller or to activate your preferred voice assistant (Google Assistant, Siri or Alexa). Over on the right-hand side, the earcup houses another microphone and the embedded touch-sensitive panel on top of the earcup.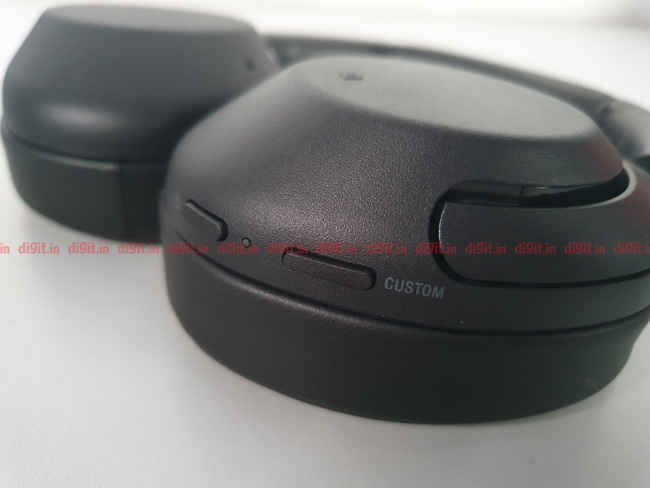 Overall, the Sony WH-XB900N are extremely comfortable to wear, even over long periods of usage, owing to the large over-ear cups, the memory foam padding and a tried-and-tested design feature in the WH-1000XM3. They sport an inconspicuous and clean design that is not really meant to draw attention to itself. The headphones come along with a cloth carrying pouch, which isn't as ideal as a hard case, a 3.5mm cable as well as a USB-C cable. 
Features
The Sony WH-XB900N serves up a plethora of features present in the WH-1000XM3 at a lower price point to users. Let's delve into the array of features and their effectiveness. First up, the headphones come equipped with ANC (Active Noise Cancellation), however, the calibre of this technology is miles away from the WH-1000XM3, which is far superior even though they sport the same chip which Sony has dubbed the "HD Noise Canceling Processor QN1". Isolation, when ANC is turned on, is extremely disappointing, especially in the bass range which renders it unsuitable for commute. In our tests, we could hear the railway tracks' sounds, wind rumble and traffic on the road as clear as day even with ANC turned on, which is frankly distracting, especially when you're attempting to gaze out of the local train window, listening to your favourite tracks, looking all pensive.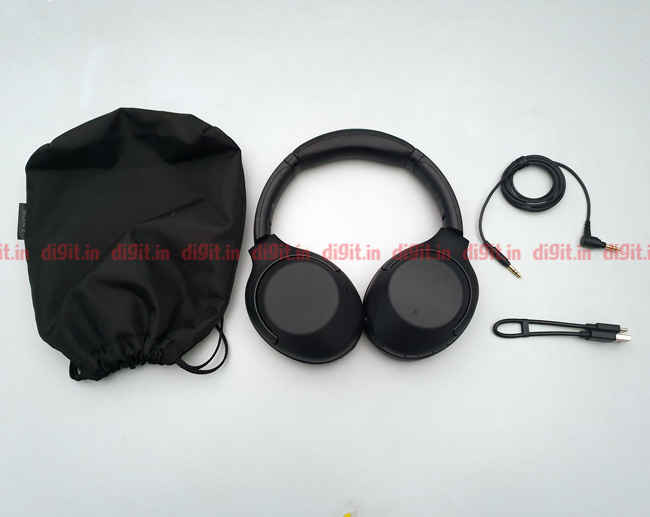 However, the ANC performance indoors is starkly different since it works extremely well in office environments. It completely veils speech and background sounds in such environments, providing a truly immersive experience. This suggests that ANC does well in blocking out the middle-range and treble external sounds, such as the voices of our noisy editorial team. 
The headphones also boast an accompanying app – Sony | Headphones Connect available for Android and iOS users. The WH-XB900N can access a plethora of features and customisations through the app including adaptive sound control, ambient sound control, a capable EQ, sound position control and DSEE mode. Note: To access more granular equaliser controls on the app, you will need to revert to SBC streaming.
We found ourselves testing out Adaptive Sound Control quite a bit, which is an equivalent to the Jabra 85H's 'Moments'. Adaptive Sound Control essentially detects your surroundings and actions using its microphones and AI capabilities to set an ambient mode for you. The modes include – Staying, Walking, Running, and Transport. The ambient sound is heightened in walking mode and ramped up even more in running mode to ensure that you stay vigilant of your surroundings, while it goes into complete ANC during transport and allows minimal ambient sound during Staying mode. Using the app, you can tweak these settings according to your preference. Personally, the reviewer changed Staying Mode from allowing minimal ambient sound in, to no ambient sound at all.
The feature works quite well, with it detecting staying (indoors), walking and running extremely accurately. However, when it came to Transport, it had trouble detecting when we were on a train and kept switching erratically between Transport and Walking which extremely frustrating really quick, since there's an audible 'beep' that interrupts your music every time it switches the ANC mode. You'd probably be better off turning off Adaptive Sound Control if you travel a lot, especially by train. 
Additionally, these cans also have a feature called Quick Attention mode, which by far is our favourite feature on the Sony WH-XB900N headphones. It's a simple feature which lets you momentarily pay attention to your surroundings by placing your palm on the right earcup. Essentially, what it does is, allows ambient noise through and reduces the media volume to a minimum as long as you keep your hand pressed on the touchpad. This is an extremely useful and intuitive feature, the kind that makes you wonder why everyone else hasn't implemented this already since it is a gateway into having quick conversations or even eavesdropping…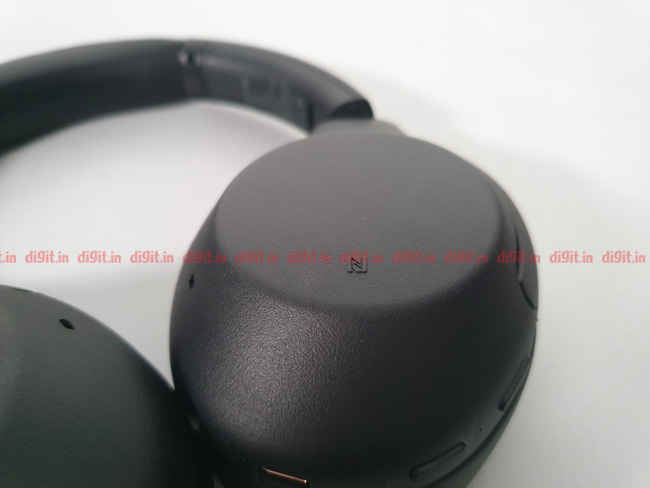 ​
Speaking of the touchpad, the touch-sensitive controls are extremely responsive and easy-to-use. A double-tap will pause/play music or answer calls, swipe up or down will control the volume and swipe left or right will skip and go to the previous track respectively. Simple and intuitive, just how we like it.
Additionally, Sony has incorporated support for an array of Bluetooth codecs such as SBC, AAC, aptX, aptX HD, and LDAC which will thrill audiophiles. There's also NFC for quick pairing which involves simply tapping your device to the headphones' ear cup. Unfortunately, Sony has implemented Bluetooth version 4.2 instead of the industry-standard Bluetooth 5.0, which is seen on headphones costing less than the WH-XB900N as well.
Performance
Staying true to the 'XB' moniker in the headphones' model name, the Sony WH-XB900N are ridiculously bass-heavy. Yes, we're talking bass-heavy on the levels where Beats fans might be pushed to switching ship. Sony uses custom electro bass boosters that alter the lows to deliver powerful, deep and resounding bass. However, in this case, we found the bass levels to be quite jarring and unpleasant at times.
The sound quality of these headphones that sport 40mm dynamic drivers leans heavily to a warm sound signature and the mids and vocals are effectively recessed due to this. While bass lovers may enjoy the actual physical thumps these headphones produce, especially over higher volumes, the audiophile or even the casual listener may find this booming profile a bit too muddy.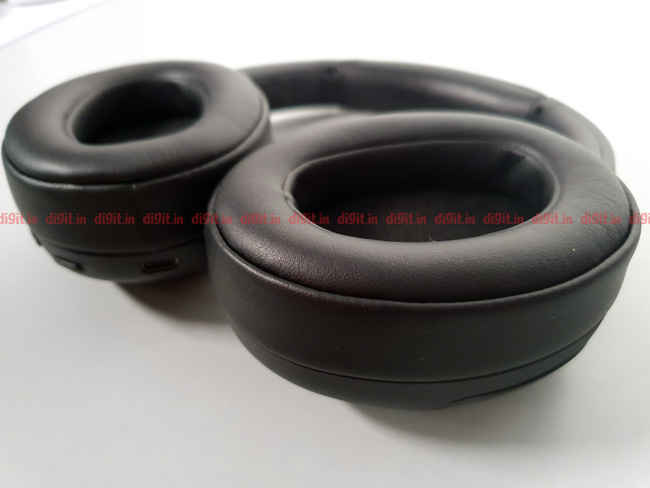 The bass is highly over-emphasised which resoundingly brings in an excess of thump and rumble in almost every genre of music, even the ones that aren't meant to feature it. This is clearly indicated in tracks such as Another One Bites the Dust by Queen and Mark Ronson and Bruno Mars' Uptown Funk. The fine details in a plethora of non-bass instruments are relegated to the background due to this making it very one-dimensional, which is not a great thing.
Coming to the mid-range performance, it is quite decent and even fairly balanced, however, as mentioned above, mid-range instruments and male vocals are thinned out due to the excessive bass. The highs are not very pleasant and the response is quite uneven in this frequency range. You can witness this in Serotonia by Highly Suspect, especially at the 2.38 mark. The highs have the tendency to become shrill at times, and overall the headphones just lack in detail and brightness in this range, which is sorely disappointing, since the WH-1000XM3 is one of the best-sounding headphones, if not the best, in the wireless headphones segment.
The soundstage is just about as decent as you'd expect out of wireless headphones, nothing too great here. When testing sound leakage, we found it to be decent, with about 45dB of leakage recorded which is not too bad. 
Overall these headphones are purely for bass-heads when it comes to audio performance, and genres such as EDM, pop and hip-hop. If you listen to a lot of rock and metal, steer clear of these and consider the Jabra 85H or invest some more and get the Bose QC 35 II or Sony WH-1000XM3.
Coming to battery life, these headphones are the charge-them-once-and-forget-them kinds. The company has rated the battery at 30 hours with ANC on and 38 hours without. There's also a quick charge feature which gets you an hour worth of listening just out of 10 minutes of charging, which is neat. In our tests, the battery on these cans lasted 29 hours with ANC being turned on for about two-thirds of that time, which is still extremely good. The headphones took around 4 and a half hours to charge from near empty, which is a tad slower than expected but nothing unmanageable.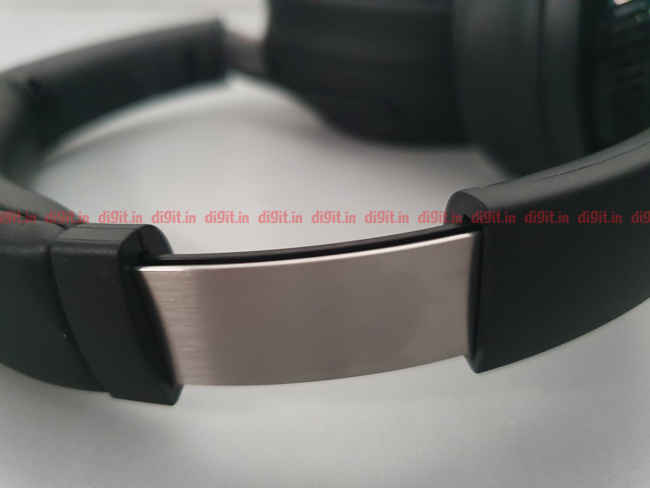 Wireless range and connection stability are both stellar on these headphones, despite only having Bluetooth 4.2 instead of 5.0. We experienced no random lags, stutters or dropouts while listening to audio. Also, the headphones are rated at 30 feet of wireless range, however, we experienced dropouts much further than that, at about 40-45 feet, which is commendable.
Watching media on these cans are a good experience, except that more attuned users will be able to feel some delay between the image and audio. The headphones latency is at about 200ms, however, with aptX or aptX HD active, it gets much better. However, we recommend using the 3.5mm cable while consuming media for a more seamless experience.
Bottomline
The Sony WH-XB900N is an affordable alternative to the more expensive Sony WH-1000XM3, and it does compromise on audio quality, as per our tests. The sound signature, while it may be ideal for bass-heads, is a bit too bass-y and muddy to the average consumer and especially the audiophile. The headphones do offer a host of features such as support for high-end codecs, touch-sensitive control pad, adaptive sound control, ANC and more. However, the isolation in ANC mode is disappointing and doesn't match up to the calibre of competitors such as Jabra 85H and Bose QC 35 II. The headphones, however, are extremely comfortable, but they do get a bit warm over long periods of continuous usage. They are suitable for bass-heavy genres such as EDM, hip-hop and pop. If you want a pair of wireless headphones that concentrates heavily on booming bass, these may be the cans for you.