Awesome ASUS ExpertBook B1 11th Gen Core i5-1135G7 (2022) Review: The Everyday Knight available in Dhaka, Bangladesh


I am not fond of thin and light laptops. Their restricted footprint leaves little room for performance. However, I am proven wrong more often than not because such laptops continue to surprise me with their capabilities. By design, it is a kind of office laptop, but thanks to the latest revolution in CPU technology, these laptops are capable of a lot more. The ASUS Expertbook B1400 is one such capable laptop I recently tested and here's my opinion on whether you should buy it or not.
ASUS Expertbook B1400 Review: Specs
Processor: Intel 11th Gen Core i5-1135G7 CPU 4-core 8-thread with 2.40GHz base frequency and 4.20GHz Max Turbo frequency

Graphics Card: Intel Iris Xe graphics card running at 1.30GHz frequency

Memory: 8GB DDR4 RAM

Storage: 512GB SSD

Display: 14-inch 1080p IPS LCD display

Weight: 1.45kg 
ASUS Expertbook B1400 Review: Benchmark And Performance
The ASUS Expertbook B1400 is a thin and light laptop primarily designed for office use. In terms of performance, it has an Intel 11th Gen Core i5-1135G7 CPU featuring 4-cores and 8-threads. The CPU has a 28W TDP and also packs in the Intel Iris Xe discrete graphics chip. 
A thin and light laptop needs to be power efficient so that's how I began the testing. The quad-core Intel CPU uses the most power during photo editing, gaming, rendering and visualisation. Under normal usage which includes opening and closing different applications, the CPU power usage remains at around 15W. However, during web browsing, it shoots up to 35W. In terms of the PC Mark 10 synthetic benchmark, the laptop scored 3545. Compared to some other Intel 11th Gen Core i5 powered laptops, here's how the ASUS Exepertbook B1400 performed. 
As you can see it is almost in line with the other Core i5 laptops but lies on the lower to middle end of the spectrum when it comes to overall performance. I also ran the Cinebench R20 and R23 benchmarks to test the laptop's CPU performance. Here's how it performed to some other laptops in this price range.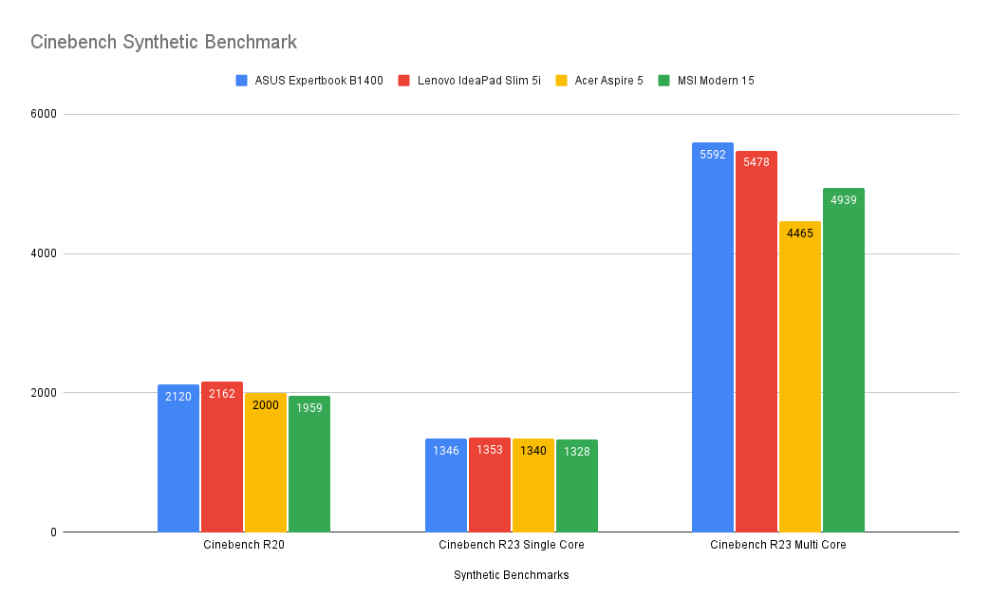 In real-life scenarios, the laptop handles all the basic tasks like photo editing in Vectr, video editing in Filmora and web browsing in Chrome very well. It does not lag and also comes with a dedicated high-performance mode. 
In terms of CPU thermal performance, the laptop managed to mostly stay between 75 to 45 °C while web browsing, running apps, editing documents and spreadsheets. The temperature did shoot up briefly during rendering and visualisation, a processing heavy workload. However, for the most part, the laptop remains relatively cool.
I tested some games like Shadow of the Tomb Raider and it scored about 29 FPS. Meanwhile, titles like Valorant and Fornite ran easily at around 90 to 60 FPS respectively at low settings in 1080p resolution. In conclusion, the ASUS Expertbook B1400 performs well in daily productivity tasks and is also capable of some light gaming. 
ASUS Expertbook B1400 Review: Keyboard, Trackpad, and Speakers
The ASUS Expertbook B1400 has good build quality. It features an aluminium lid on top and a steel support bracket for the keyboard. The ASUS laptop has a solid hinge and its screen has minimal flex. The laptop's base which accommodates the keyboard also feels very sturdy and on its surface has a matte-absorbent coating, which makes typing on it for long hours very easy. With an overall weight of 1.45 kg, the laptop is quite portable and thanks to high build quality, can easily handle the wear and tear associated with daily travel.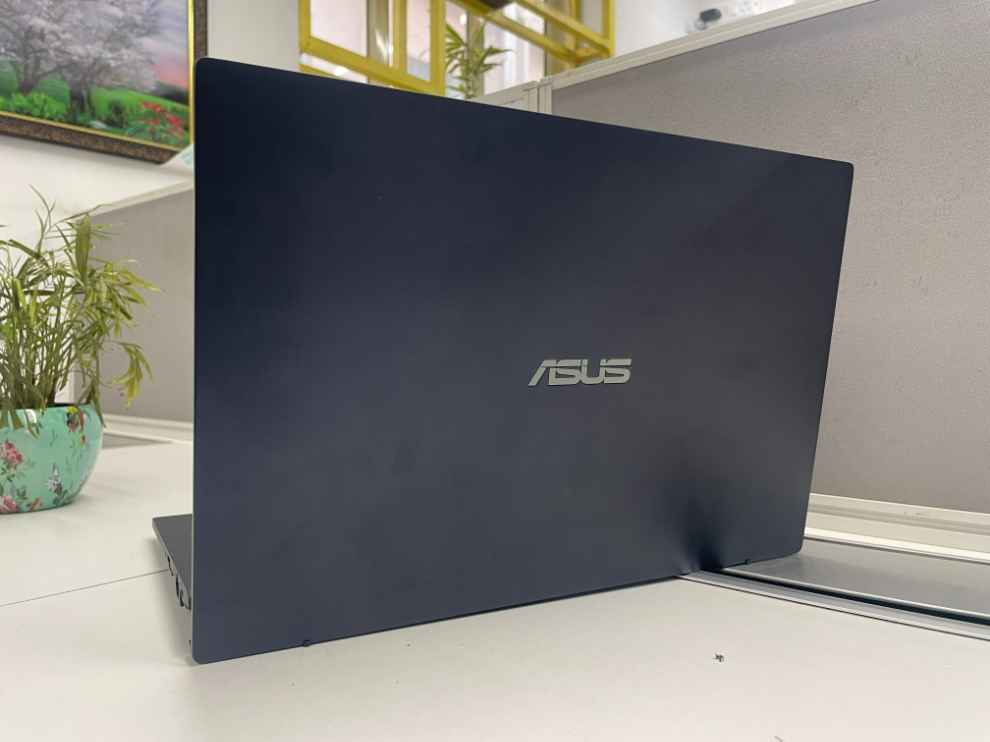 The Expertbook's keyboard has a 1.5mm key travel. Several laptops come with 1mm of key travel and typing on them don't feel as good. The 1.5mm key travel is ideal for most use cases making the Expertbook's keyboard worthy of praise. The ASUS laptop also has an ergo lift design that pushes the keyboard up thus making it easier to type.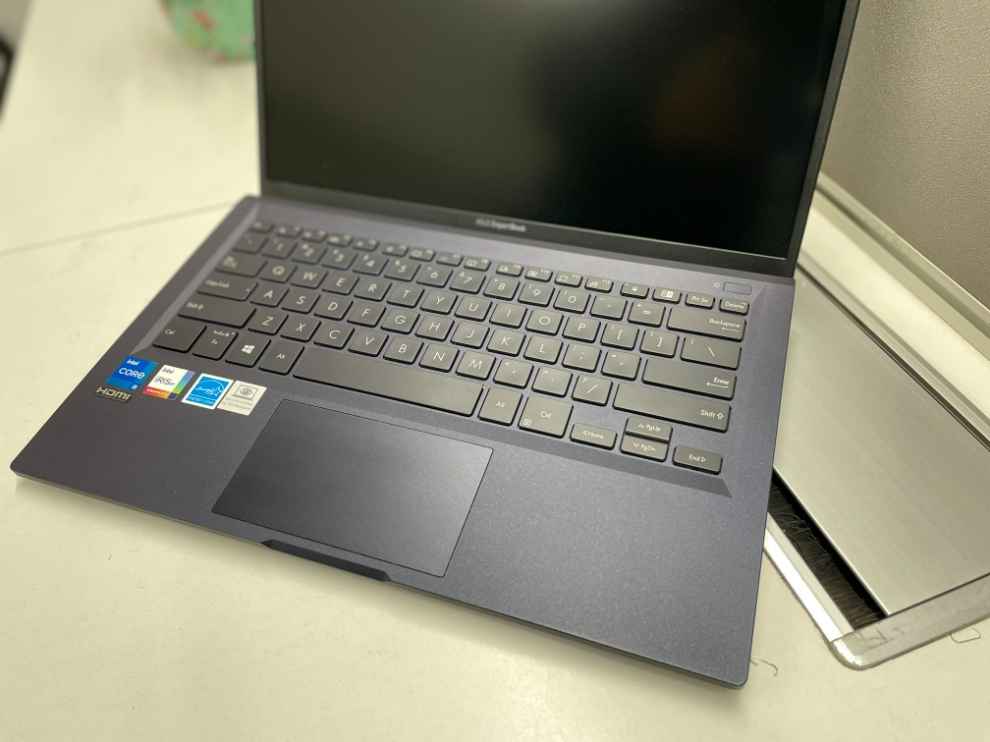 The trackpad on the other hand is also decent. The Expert Book B1400 laptop series also features an ASUS Numberpad 2.0, a secondary digital touchpad. However, my particular unit came with a normal trackpad and it works fine. The left-click on the trackpad is positioned slightly above the right click. Naturally, people use left click more than the right-click, so such a change feels welcome. However, it could just be a build quality anomaly and not an intended feature as the laptop spec sheet mentions no such thing.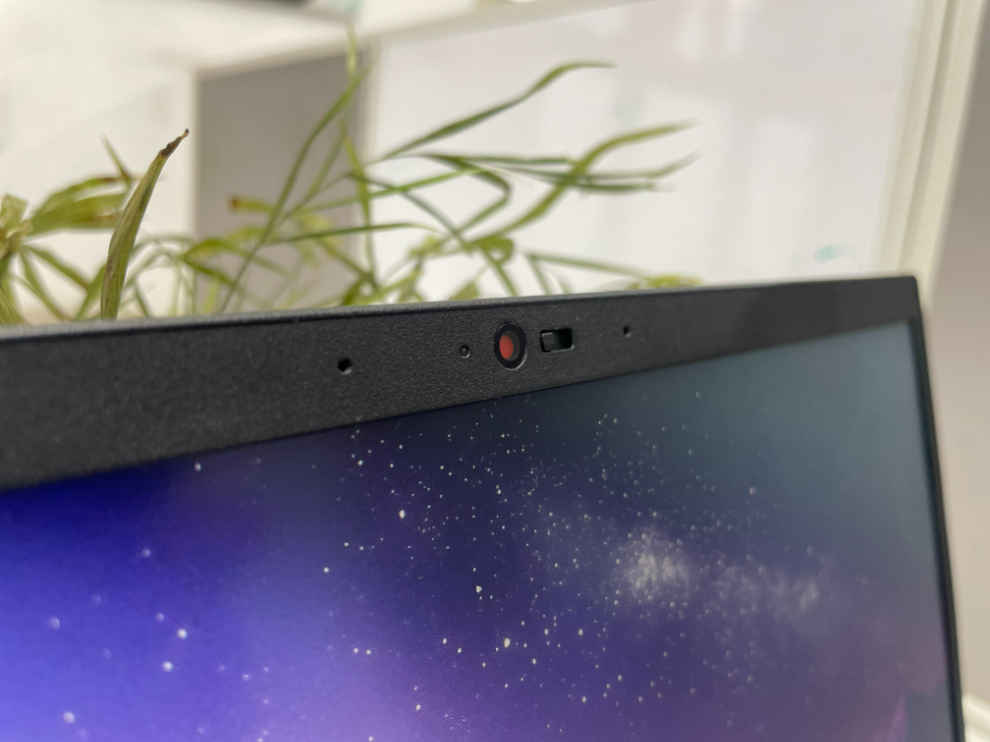 ASUS has imbued the Expertbook B1400 with a webcam lid and fingerprint sensor over the power button. Both of them work as intended. The laptop also has an onboard mic with an AI noise-cancelling feature that filters background noise. I tested it and found that it lowered my voice's volume as well. It did filter out a good chunk of background noise from the fan and AC at the apartment so it's a decent feature to have.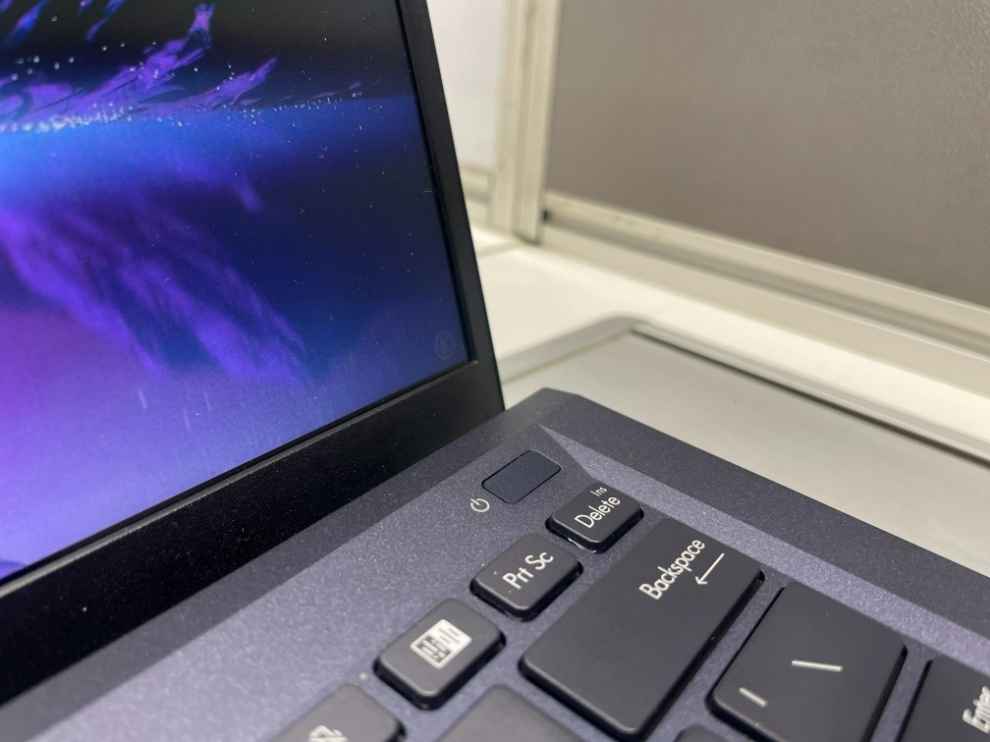 The laptop has two downwards facing speaker vents and the audio is not good. I recently tested the Infinix INBook X1 and it had far superior speakers in this price range. Lastly, in terms of I/O, the ASUS Expertbook B1400 comes with USB Type-C with Display-out and power delivery support, Two USB 3.2 Type-A ports and one USB 2.0 Type-A port. The laptop also features a D-SUB port for connecting to external monitors in addition to USB Type-C. Furthermore, the laptop also has an HDMI out slot and an RJ-45 LAN port. 
ASUS Expertbook B1400 Review: Display Performance
The display is one area where the Expertbook B1400 laptop lets you down. It comes with a 14-inch 1080p display with just 232 nits of brightness. Ideally, the screen should have at least 300 nits brightness.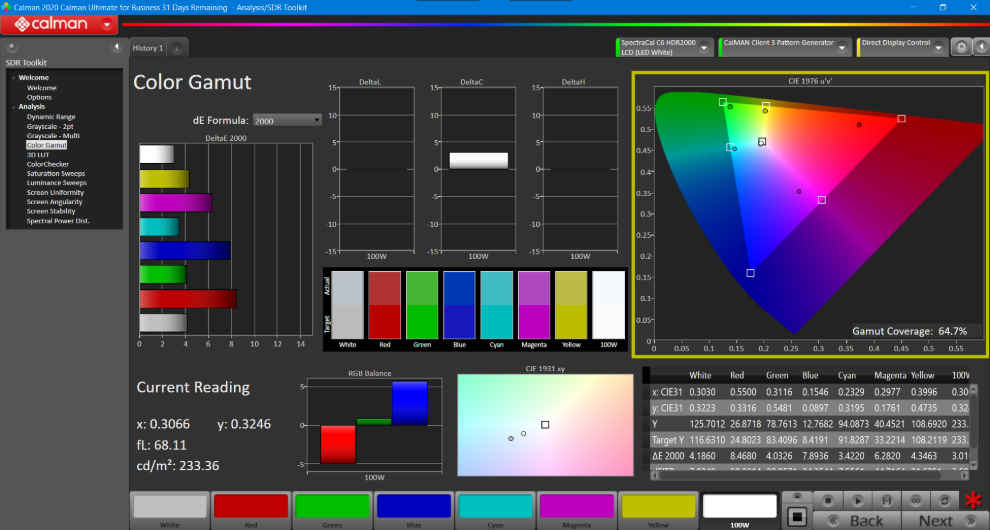 The laptop's screen has a 178° viewing angle but some portions of the screen, especially its top section, becomes darker when you view it sideways. The laptop's screen covers 64.7% sRGB and 47.7%DCI-P3 colour spectrum. However, some laptops at the Rs 50,000 to 60,000 price come equipped with a much higher specification display. During the Colorchecker analysis, I also found that the laptop's screen is not colour accurate.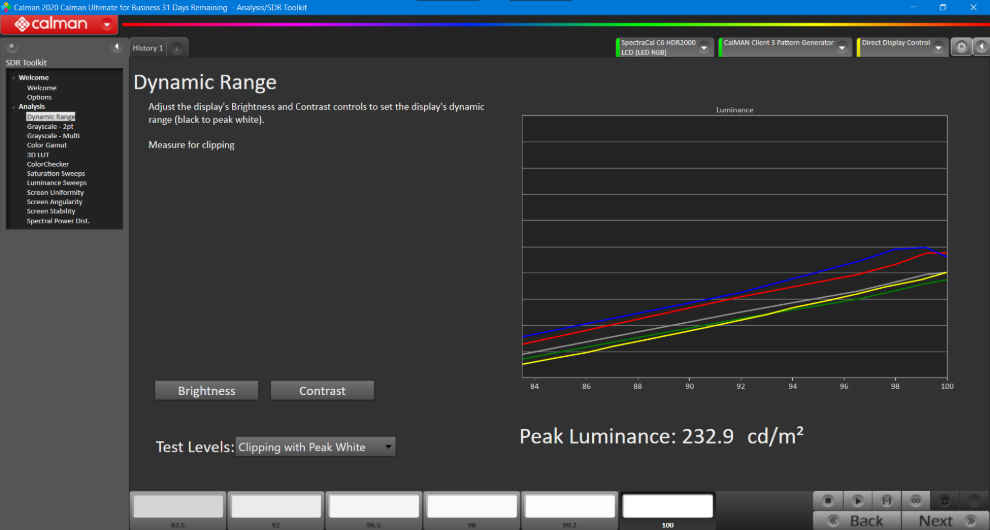 ASUS Expertbook B1400 Review: Battery Life Performance
I tested the laptop's battery life two times. In the first test, I put the laptop in performance mode, the screen's colour set to "vivid" and brightness to 100%. Naturally, the laptop managed a battery life of 4h and 21 minutes.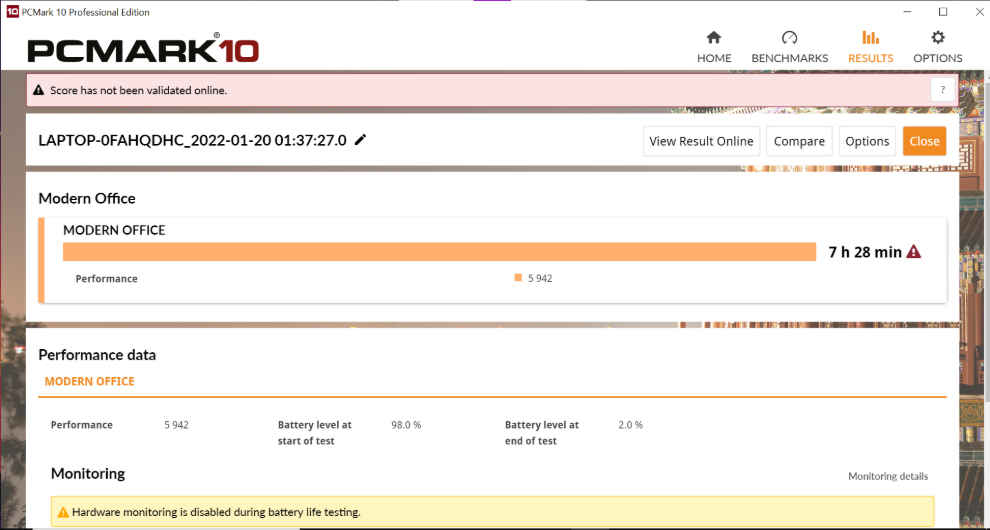 In my second attempt, I put the laptop in balanced mode, changed the screen's colour setting to "Normal" and reduced the brightness to 80%. Now, the laptop returned a battery life of 7h and 28 minutes. Therefore, I'd put this laptop's battery life somewhere around 7 hours in real-world usage, which is pretty good. The laptop has a 45Wh battery which is a bit smaller than the 55Wh unit the Infinix INBook X1 comes with. 
ASUS Expertbook B1400 Review: In Conclusion
The ASUS Expertbook B1400 is a well-built laptop with decent performance and high portability. Its small size and high build quality make it a good daily driver and its impeccable keyboard makes working on it for hours a bliss. The laptop's low-brightness screen is a letdown. However, its decent battery life, good I/O port selection and high build quality make up for it.
Personally, I'd connect an external monitor, a mouse and a keyboard to this laptop and use it as a work PC thanks to its great I/O port selection. The laptop has an approximate price of Rs 55,000 and for that it's a good choice for office work. You can also check out Lenovo IdeaPad Slim 5i or Acer Aspire 5 as some other viable options.