Awesome Here's how the Samsung Galaxy Z Fold4 takes multitasking and productivity to the next level and beyond available in Dhaka, Bangladesh


Samsung's Foldable phones have evolved to their fourth generation and have gradually refined the Foldable experience for users. These innovatively designed phones transform their shape and thus open up new experiences that add unforeseen value. The slick Galaxy Z Flip4 is a powerful tool for self-expression and the Galaxy Z Fold4 is particularly exciting for consumers who like to do a lot on their phones. 
In modern times, when people constantly feel the need to be at the top of their game, a device like the Galaxy Z Fold4 promises to make life simpler by overcoming regular smartphone constraints. This new Samsung Foldable addresses modern productivity needs and offers all the tools you need to be productive on the move. 
Let's talk about how the Galaxy Z Fold4 assures to be the ultimate do-more device that makes it easier for modern professionals to attain that perfect work-life balance.
Multi-window: To work with multiple apps feels very natural on the Galaxy Z Fold4
Opening more than one app at a time can feel intimidating on a regular phone. Certainly not on Galaxy Z Fold4, though! Every time you feel the need to jump to another app, you can quickly pull it on the screen with a few intuitive swipes. That too without disturbing your workflow in the app that you are currently using!
You can simply drag and drop apps from the PC-like taskbar at the bottom to use apps in a split-screen view. Or you may even pin App-pairs on the taskbar for up to three apps that you frequently use side-by-side. You can also drag and drop apps from the side edge panel or even squeeze the app from full screen to split-screen view by swiping with two fingers from the bottom, left or right edges. 
So, without disrupting the flow of your online meeting, you can check your worksheets side-by-side or pull up the notes app to jot down important tasks. Or while watching a video you can continue chatting with a friend and checking out your emails.   
Taskbar is a massive advantage for multitasking!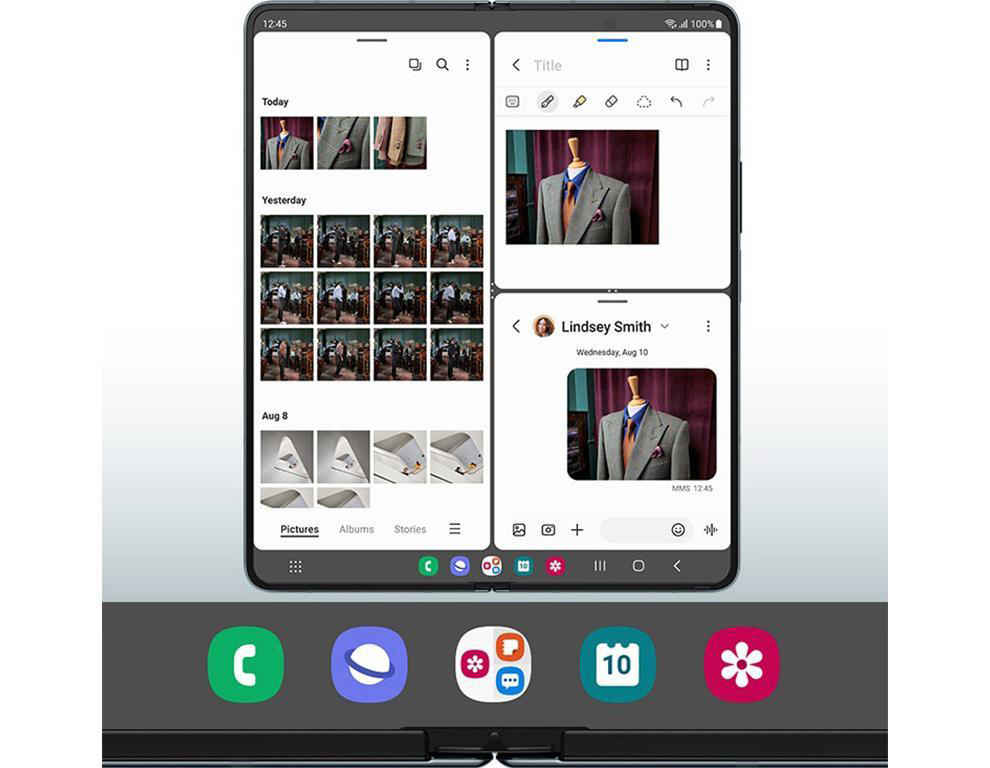 One of the most impressive features of the Galaxy Z Fold4 is its taskbar. The taskbar makes it remarkably simpler to switch between your most used apps and recent apps. If you often find yourself in a situation where you are juggling between multiple apps, you will find this taskbar to be a godsend. 
For instance, if you need to fact-check before pushing an impulsive tweet, you can quickly drag and drop the browser from the taskbar in a split-screen view. Or if you are filling a google sheet collating data from a few different sources, the taskbar makes it incredibly easy to move back and forth between mail, notes, messenger, sheets and more such apps. 
(Extra-) Large and Immersive Screen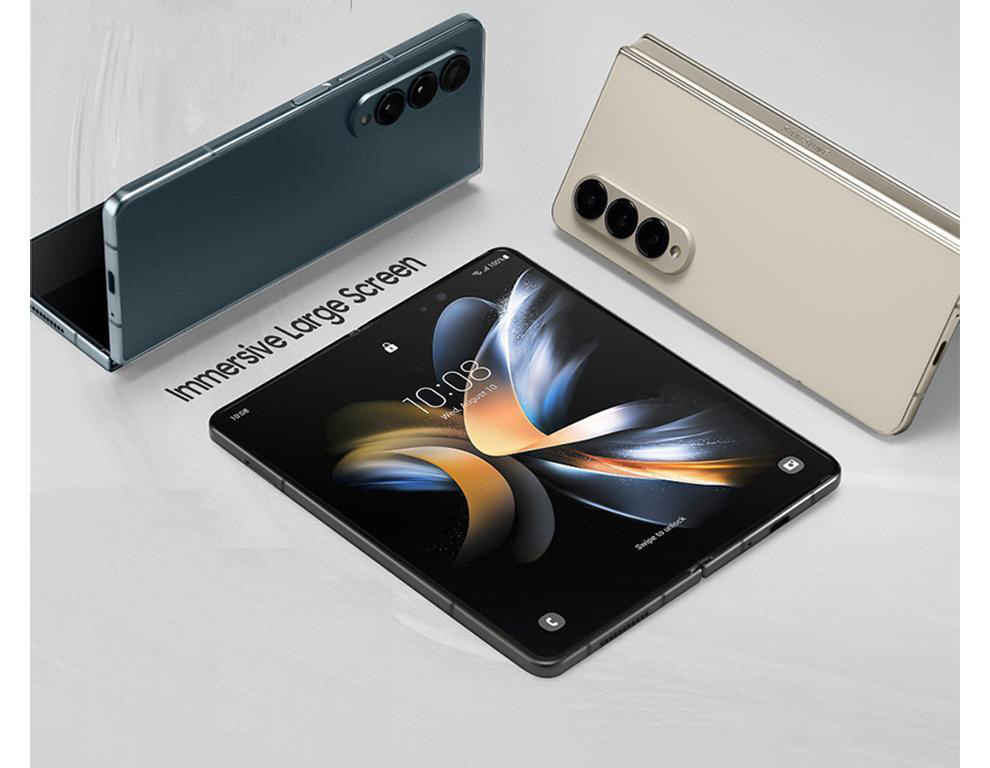 And when you are getting some serious work done, the larger-than-usual screen of the Galaxy Z Fold4 proves to be a blessing. Even the selfie camera is underneath the display to facilitate a completely immersive experience. 
The 7.6-inch Full HD AMOLED display can accommodate an astonishing amount of detail which will make you feel more confident while dealing with work-related matters on your phone. 
This high-contrast display can get astonishingly bright which makes it an absolute treat for consuming cinematic HDR content. The 120Hz screen also promises a smooth and immersive gaming experience. 
Not just the primary display, but even the 6.2-inch cover screen is now wider and more spacious, allowing users to easily tend to incoming notifications and other distractions without unfolding the phone.  
Make the most of the expansive screen with the enhanced S Pen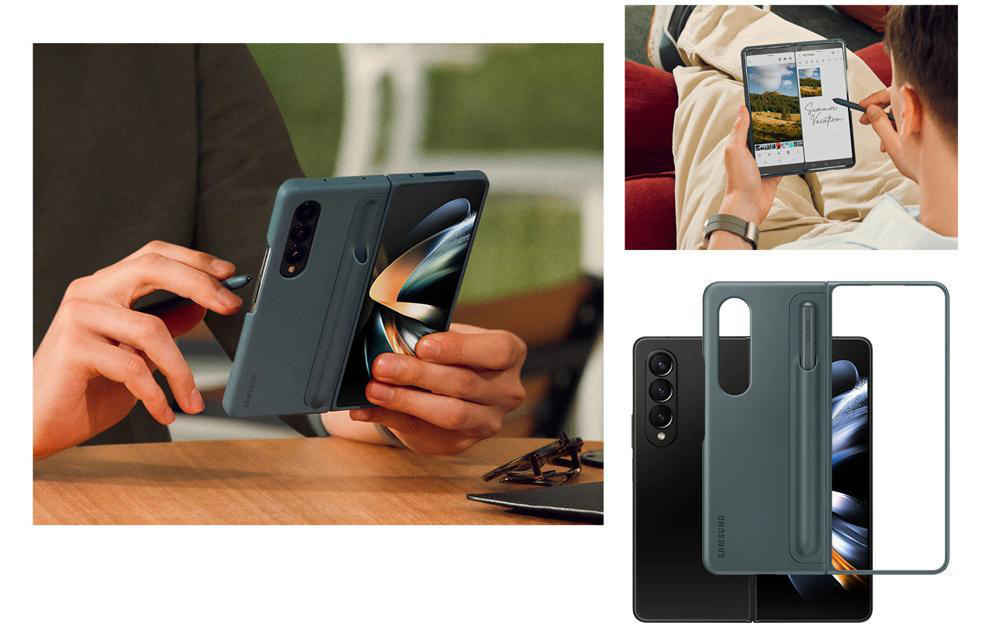 The light and ergonomic enhanced S Pen of the Galaxy Z Fold4 is an awesome companion that lets you make the most of the expansive screen. Apart from quickly jotting down notes, doodling and sketching, you can use this low-latency stylus for precise touches and easy navigation across multiple windows. This makes it an important asset that helps boost productivity and multitasking efficiency. 
It can also be used to grab text from images and can be a lifesaver when you need to digitally sign and share urgent documents on the move. 
Go hands-free with the Flex mode
The Flex mode leverages the unique form factor of the Galaxy Z Fold4 and lets you go completely hands-free. Instead of tiring your hands through long video calls, you can simply fold the phone halfway and set it down on the table in perfect orientation. Your hands are now free to spin your S Pen or to hold your coffee.
The flexed half acts as a stand that also comes in incredibly handy when you are watching videos or even when you are taking long exposure night-time shots. 
A complete experience!
Overall, the Galaxy Z Fold4 offers a complete flagship experience. This is a phone that promises to drive away all anxiety by making it seamless for consumers to switch between work and play on the fly. 
It's the thinnest and lightest Fold phone to date and is forged from tough materials like armour aluminium and Gorilla Glass Victus+. It assures of making the most of such advanced multitasking tools because it is backed by a very capable 4nm process-based Snapdragon 8 Gen1+ chipset and a long-lasting 4400mAh battery. 
True to its flagship stature, it has a fascinating camera system that includes a 50MP wide-angle camera, a 12MP Ultra-wide camera, and a 10MP telephoto camera that offers up to 3x optical zoom and up to 30x space zoom. The Nightography night camera makes the phone stand out. Larger pixels in the camera sensor paired with smart AI-enabled algorithms allow brighter and clear night photos, natural portraits and stable night videos. 
In India, the Samsung Galaxy Z Fold4 is available in three stunning colours – Greygreen, Phantom Black, and Beige for a starting price of INR 1,54,999. 
Check the latest deals and offers on the Samsung Galaxy Z Fold4 here.